Islay farm distillery Kilchoman is to double its production capacity by the end of next year in a bid to exploit the growing market for single malt whisky.
Kilchoman distillery
Going up: Kilchoman is set to double its production capacity by the end of 2018
Kilchoman, which began production in 2005, has already built a new malt floor and kiln on the site of the old Rockside Farm cow shed.
This is due to become fully operation in November, and will be capable of processing four-tonne batches of the distillery's own barley, compared to the two tonnes which the existing maltings can produce.
In 2018, construction will start on a new stillhouse, mash house and tun room – housing two more stills, a mash tun and six new washbacks.
All will be of the same size and design as the distillery's existing equipment in an effort to ensure that the character of the new make spirit will remain consistent.
When fully operational, the two stillhouses will allow Kilchoman to produce a maximum of 460,000 litres of pure alcohol (lpa) per year, a doubling of its current capacity.
In addition, five new warehouses will be constructed on-site over the next five years.
'The single malt market is still growing and we want to be part of this continued growth,' said Kilchoman founder Anthony Wills.
'We have built momentum with sales and I don't want to be in a position in four to five years of having to allocate stock.'
from scotchwhisky.com
voyez l'article de newsletter@scotchwhisky.com
EXCLUSIVE: Plans for a new malt whisky distillery at Gartbreck on Islay look doomed thanks to a dispute between land owner Jean Donnay and independent bottler Hunter Laing.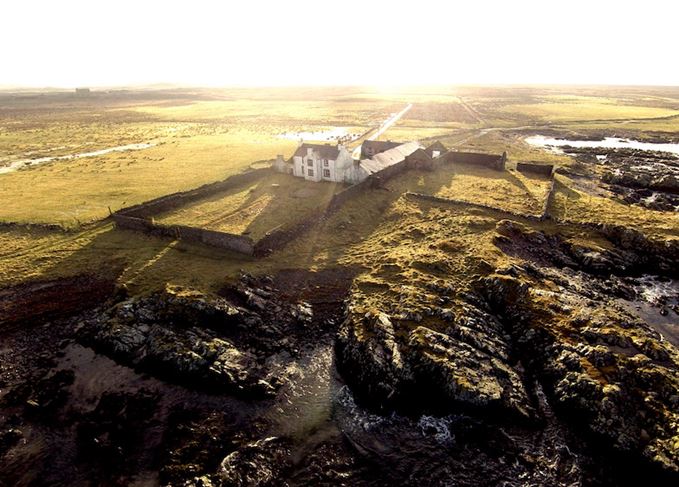 The disagreement centres on a strip of land adjoining the Gartbreck site and earmarked for warehousing and car parking, which is owned by Hunter Laing and without which the project is understood to be 'untenable'.
Hunter Laing, which is now building its own distillery at Ardnahoe on Islay's east coast, had entered into an agreement in early 2015 to buy Gartbreck from Donnay, who would have been retained temporarily as a consultant.
Hunter Laing demolished Gartbreck's farm buildings and undertook further preparatory on-site work, but before the final contract was signed Donnay decided to pull out of the deal.
Scotchwhisky.com understands that he was unaware that Hunter Laing had already bought the adjoining strip of land from its previous owner, Islay Estates.
Donnay has since offered to buy the land from Hunter Laing, but without success. Hunter Laing managing director Stewart Laing said: 'Everything is for sale, but only for an offer which makes sense.'
Asked if Hunter Laing might be accused of blocking the construction of a rival Islay distillery while it completes Ardnahoe, Stewart Laing responded: 'That is not the case. There are umpteen sites on Islay where distilleries can be built. We are not in the business of blocking the building of distilleries.'
He added: 'We're keen to avoid any kind of public spat as it does the parties involved, the local community or wider industry no favours.'
Jean Donnay said: 'I'm happy to sit around a table with Stewart, Andrew or Scott [Laing], in the presence of third parties, and to debate very openly and honestly, with adequate documents at hand for each party, in order to clear the situation and any possible misunderstanding.'
Stewart Laing responded: 'As we have said, we're happy to consider offers for the property that are in line with our valuation, at which point meetings with any prospective buyers would be worthwhile.
'Since Jean exercised his right to reject our offer and plans for the Gartbreck site, our strategic priorities have changed. We are now busy pressing ahead with our plans for Ardnahoe distillery and look forward to making it another distilling success story for Islay.'
Donnay, owner of Glann ar Mor distillery in Brittany, secured planning permission for the Gartbreck distillery in early 2014, and had aimed to make a peated single malt using direct-fired stills, wooden washbacks and worm tub condensers.
With a production capacity of 120,000 litres pure alcohol a year, the plant had planned to have its own malting floor and kiln, with the potential to supply about 20% of its needs from Islay-grown barley.
From scotchwhisky.com
Dr James Swan – 1941/2017
Enorme perte pour le monde du whisky. Jim Swan fut diplômé de l'université de Heriot-watt en chimie et à également un doctorat en biologie. Il est aussi diplômé de The Royal Society of Chemestry et obtient en parallèle plusieurs bourses provenant de l'institut du brassage et de la distillation. C'était l'un des plus grands experts en distillation, blending et maturation sur cette planète et avait conseillé ou formé les acteurs de plus d'un projet. Kavalan, Penderyn, Armorik, Cotswolds, Lindores Abbey, Clydeside, Victoria Caledonian au Canada, Jim a fait partie de nombreux projets et à conduit certaines distilleries au sommet.
Silvano Samaroli – 1939/2017
En fin de semaine dernière s'est également éteint un homme de l'ombre du whisky, une personne qui n'est pas forcément la plus connue, du moins de notre génération, Silvano Samaroli. Né en 1939 à Bologne, il devient importateur pour l'Italie en 1968 en ouvrant sa boutique à Rome. Après avoir amené les whiskies de qualité dans son pays, il se rapproche des embouteilleurs indépendants, dont Cadenhead avec qui il tissera un lien très étroit afin de se lancer lui même dans l'activité. Mais l'apport de Samaroli viendra surtout de son style sans concession, qui militera notamment pour la démocratisation des embouteillages Cask Strength et l'innovation, notamment avec ses emblématique Samaroli Evolution.
Très bonne nouvelle : Jim MacEwan sort de sa retraite pour participer à  la construction de la nouvelle distillerie d'Islay, Ardnahoe, propriété de Hunter Laing, puis il en prendra la direction technique et de production à  l'été 2018. Il promet de produire des whiskies dans le style classique d'Islay, a la main, sans ordinateur, avec un beau caractère tourbé pour rester fidèle à  l'héritage de l'île
Amateurs de Whisky, nous vous donnons rendez-vous toute la journée ce Samedi 22 Octobre dans votre Magasin de Wasquehal pour déguster Gratuitement notre Nouvelle Gamme de Whisky, en présence de Mr Eric Delrue.
Venez Nombreux, en famille, entre amis, de 10h00 Ã  19h00 non stop!!!
 
C'est désormais une tradition !
Pour vous aider à  faire le bon choix en vue de la Fête des papas, pas moins de 30 whiskys vous seront proposés à  l'essai, samedi 18 juin, entre 10h00 et 19h30.
A cette occasion, Eric Delrue, co-fondateur du Clan des Grands Malts, nous fera l'honneur de sa présence.
Eric nous fera partager son immense passion et nous révélera ses secrets d'ambassadeur du whisky.
Une bien triste nouvelle : on annonce la mort de John Maclellan, patron technique de Kilchoman sur Islay. Il avait auparavant tenu ce role pendant des années chez Bunnahabhain. J'ai encore souvenir d'un feu d'artifice sur la plage de Port Charlotte pour un reveillon de nouvel an ou il nous avait régalés avec une bouteille ou il n'y avait pas d'étiquette ! Repose en paix au paradis des amateurs de single malt John !
Inscription au 03 20 72 80 89
Tweeter